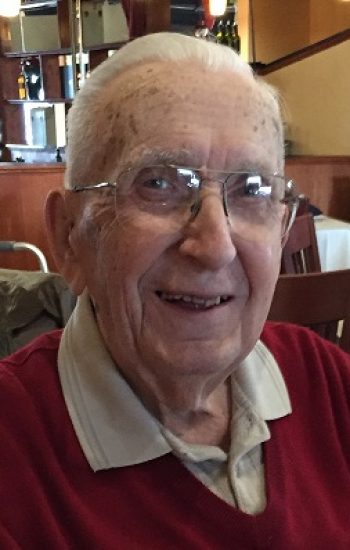 Le Roy Gaertner
Visitation Date:
Saturday, July 14, 2018
Funeral Home:
Salerno's Rosedale Chapels
Place of Funeral:
St. Isidore Church
Interment:
St. Isidore Cemetery
LeRoy J. Gaertner (age 97 ½ ), loving husband of the late Jeanette (nee Traynick); loving father of Joanne (Paul) Fries, Mary Frances (Bill) Clark, Eloise Ryan, Tom (Kate) Gaertner and Margaret (Michael) Chuchvara; loving son of the late Margaret and Edward Gaertner; loving brother of the late Edward (late Louise); loving grandfather of Robert (Gina) Fries, Carolyn (John) Dillon, Michael Fries, Rose Ryan, Jane Ryan, Annie (Matthew) Westerkamp, Matt Gaertner, Bill (Emily) Gaertner, Lauren Chuchvara and Jenn Chuchvara; loving great-grandfather of Raechel (Shane) Peifer, Claire, Andrew, and Margaret Dillon, Ella Westerkamp; great-great-grandfather of Connor Peifer; loving uncle of 3 nieces and 3 nephews.
LeRoy was a staff sergeant in the US Army during WWII, and graduated DePaul University on the GI bill; spent many happy years working at Messenger Press, American Library Association, National Association of Retail Druggists, and retired from the Berghoff Restaurant. He proudly served for 14 ½ years on the Board of the Bloomingdale Public Library.
Family and friends are invited to a Memorial Visitation Saturday, July 14, 8:30 to 10:30 am at Salerno's Rosedale Chapels, 450 W. Lake St. (¾ mile west of Bloomingdale/Roselle Road), Roselle. Memorial Mass and Interment to follow at 10:45 am at St. Isidore Church, 427 West Army Trail Road, Bloomingdale. For information, please call 630-889-1700.
In lieu of flowers, family would greatly appreciate donations to the Salvation Army or the Bloomingdale Public Library, as these played an important role in LeRoy's life.