Guestbook
Posted on:
Friday, May 29, 2020
I am so very saddened to hear of Michael's passing. I really enjoyed his company and conversations at our family gatherings. A fascinating, talented and wonderful person. My sincere condolences.
---
Posted by:
Mayor Don Johnston and Family
Posted on:
Thursday, May 28, 2020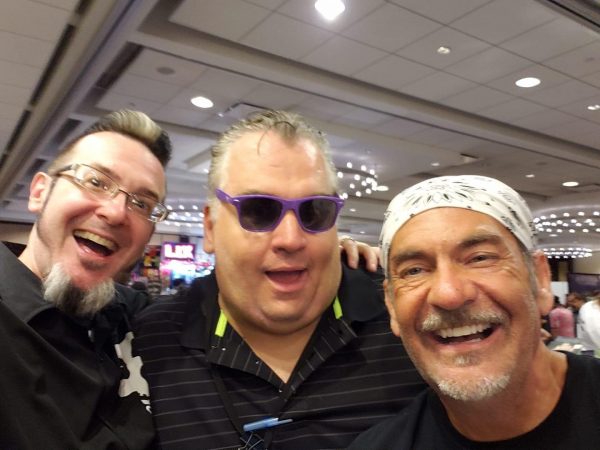 Mike and I were convention friends that were always happy to see each other. I already miss you but I will always be your friend in this world and the next. To his wife and family and haunt friends, my heart is sad for you all. Stay strong.
---
Posted on:
Tuesday, May 26, 2020
it was johnny b in the morning, low ride trucks at lunch then star wars and horror movies after lunch. the fun did not begin until his haunt hobby became a business. ups delivery at Metric was go time. what would be coming in. what body parts, what insects, nocturnal creatures would he create. i worked 20 years with mike at metric. i don't think a day went by without talking about his projects or see him draw out new halloween designs. He did get to go to Disney and universal studios always talked about going. always looked forward to see him drop in and get an update on recent projects. he made metric a fun place to work. i am so sorry for your loss. you will always be in our prayers. his talent was beyond compare. george swedie
---
Posted by:
Gregg and Kathy Burgess
Posted on:
Tuesday, May 26, 2020
Michael, we were very fortunate to have met you, Patty and your mother. You will be missed by many. Rest in peace.
---
Posted on:
Tuesday, May 26, 2020
Dear Michael , You have always been like a son to me , I love you very much but I think you know that . You are very special to me - I am so blessed to know you , thank you very much for being in my life ! I think you were 3 or 4 years old when I met you and you stole my heart right away - you silly boy ! Your mother is so blessed to have you for a son and you are very blessed to have her for a mother . And what a special day it was long ago when you walked into a Perkins restaurant and met a waitress named Patti and we all know what happened sometime after that , you are so lucky to have such a wonderful and beautiful wife and Patti you are so lucky to have Michael . You 2 are an awesome couple - Ken and Barbie everyone's dream ! Michael you are one of the most courageous people I have ever known - actually you are the most courageous person I've known !! I know in my heart that now you are up there with all our lived ones that have been gone for some time . I will love you forever and I'll pray for you everyday !! You will always be in my heart forever !!! If I'm lucky I will get to see you again one day !! XO XO PS - I will never forget all the fun times we had together!! Uncle Joe
---
Posted on:
Monday, May 25, 2020
Mike you will be missed by many and all that have known you over the years rest in peace brother
---
Posted on:
Monday, May 25, 2020
To all the good times! Thanks for being a good friend, through it all. Rest in Peace! Love you brother!
---
Posted by:
William Piotrowski
Posted on:
Monday, May 25, 2020
Almighty God, we entrust all who are dear to us to thy never-failing care and love, for this life and the life to come, knowing that thou art doing for them better things than we can desire or pray for; through Jesus Christ our Lord. Amen. Lord please give my treasured friend love and blessings without end.
---
Posted by:
Maryann and Dick
Posted on:
Sunday, May 24, 2020
Michael you were such an amazing young man and loved by so many. We will miss you and your great personality. You are in God's hands now. Love you Maryann and Dick
---
Posted on:
Sunday, May 24, 2020
I will never get over losing you. Patti, you were a wonderful wife for Mike. He adored you and we are thankful he brought you into our family. He opened up his home as well as his heart. Mike, rest in peace. Our family was blessed when you were born. You will never be forgotten. I will meet you in heaven. Love you always. Godmother
---
Posted on:
Sunday, May 24, 2020
I'm so very sorry to hear of Mike's passing. We worked together at Metric for a long time, and everyone looked forward to his unexpected drop ins after he left. He will always be remembered for his sense of humor and bringing smiles to our faces. Rest in peace, Mike, and all my best to his family during this time.
---
Posted by:
Frieda pateroob
Posted on:
Sunday, May 24, 2020
Michael my heart is breaking. I just don't want to believe it.I will love you forever.I have such wonderful memmories.I'm going to have a hard time getting over this. Patti I love you, we all do.you and Michael were such a great couple and you have such a loving family. Thank you for being in our family. I always be here for you if you need me.
---
Posted on:
Sunday, May 24, 2020
One of the best friends I've ever had in my life. He taught me so much technically, artistically and most important spiritually. His perpetual smile and his quick wit. His ability to always take the higher road. He indeed was the glue that kept us all together. The void he left can never be filled. I will try to take your optimism forward. God Speed my dear friend.
---
Posted by:
Anthony Simpkins
Posted on:
Sunday, May 24, 2020
Charlie Sheen has always been special to me since the day we met. Stood up in my wedding in 92' to supporting me for fighting in 2015! The people know what I am feeling and how I felt about this special person that came into my life for a reason. I will always love you brother!
---