Guestbook
Posted on:
Sunday, November 22, 2020
Nicole, I have so many questions unanswered. However, you've chosen peace, a peace that forever will be with you. I will truly miss those new years eves that I wait for your arrival. The last time I exchanged life stories with you was during my birthday at Radisson. The same love as I give my children is the love I send to you, a women that Elle and Stephanie adore. The love you to the fullest. My children ask you when they'll meet you or when you will be free, and by that I consider you as one of my own. We may live in a pandemic, but solutions will always be within us. We were her and are still forever by you. The love you give was unconditional. The way you call me your aunt, seems to be a whisper, like an angel. The love of our family to you is unquestionable. And you are unforgettable. To you family, to our hearts, and to our souls, our memory of you lives forever. Take care, Nicole and I miss you always . Love ,Tita Roselle
---
Posted on:
Sunday, November 22, 2020
Dear Roland and Family Words are not enough to say how we are sorry for the loss of your beloved daughter. Hold on the wonderful memories you shared together. Our prayers to you and your family to give you God's peace and strength at this time of sorrow. Love from Ate Joyce & Ate Len
---
Posted on:
Sunday, November 22, 2020
Dear Nicole T, Corpuz, In Behalf of my family we dont know each other , we dont meet you, but when i see your picture you are full happiness in your smile , in your face,, but i want you to know... in gods name your truly be happpy ,,, right now,,, everybody loves you ,,,, your family love you more .. ( tito mhel),,,
---
Posted on:
Saturday, November 21, 2020
Does death end it all? In John 5:28-29 Jesus said: Do not be surprised at this, the hour is coming those in the grave will hear my voice and come out. Many faithful servants of God, such Moses, Abraham, Isaac, Jacob, Sarah, King David, Joshua, and many more including our love ones that sleeping in death will be called back to life by Jehovah God through his appointed son Christ Jesus. In Job 14:14 Job knew that one day he will resurrected back to life. In verse 14 Job ask : If a man dies, can he live again? I will wait all the days of my compulsory service Until my relief comes. Job 14:15 You will call, and I will answer you. You (God) will long for the work of your hands. So you see Jehovah God is longing to bring his human creation back to life. When that would be? In Acts 17:31 Because he has set a day on which he purposes to judge the inhabited earth in righteousness by a man whom he has appointed, and he has provided a guarantee to all men by resurrecting him from dead. In this account human has a guarantee because the one that was given power and authority to resurrect, Died for us and brought back to life by his Father. John 3:16 For God loved the world so much that he gave his only-begotten Son, so that everyone exercising faith in him might not be destroyed but have everlasting life. No wonder in John 6:44 Jesus said no man can come to me unless the Father, who sent me, draws him, and I will resurrect him on the last day. Where those resurrected ones will live? They will be reunited to their families. In Matthew 5:5 Jesus said: Happy are the mild tempered, since they will inherit the earth. Psalm 37:11 But the meek will possess the earth, and they will find exquisite delight in the abundance of peace. Verse 29 states" The righteous will possess the earth, and they live forever on it. This new life that we have would different from what we experience now. How do we know? Revelation 21:3-5 with that I heard a loud voice from the throne say: Look! The tent of God is with mankind, and he will reside with them, and they will be his people. And God himself will be with them. And he will wipe out every tear from their eyes, and death will be no more, neither will mourning nor outcry nor pain be anymore. The former things have passed away. And the One seated on the throne said: Look! I am making all things new. I wish i have spent more time with my Niece and able to share many scriptures that provide sure hope. One day we will be together again I am longing for it. I missed you so much, can't wait to the promises from our creator. I will wait patiently for God sets the Time table. He will in his due time.
---
Posted on:
Saturday, November 21, 2020
Nicole my love, First and foremost, I miss you so much, my god it hurts! I'm still having hard time accepting the fact that I won't be seeing you grow as a wonderful person. Nicole, I love you so so so much You and Preston complete me. You and Preston are the reason why I work so hard and your my inspiration to everything I do. I'm going to miss spending time with you, shopping For make up at target and ulta. I will miss driving you to kristin's house and sharing the bedroom with you. I would miss our intellectual conversation , political or life in general. Bandit , is totally confused right now, his probably wondering where you are. Preston misses you Terribly and he wants to work hard so when you look down upon him you will be proud. Jarred misses you too and wishes he could spent more time with you. Most of all, I ask for your forgiveness for not preventing this from happening. Forgive me if I'm not always there for you when you needed me the most. And forgive me if sometimes I don't show often how much I love you. But god knows , I would do anything and sacrifice my life for you. I don't want to say goodbye because I know in my heart I'll be seeing you again. And I can't wait! I will always love you to the moon and back. Love Mom
---
Posted on:
Saturday, November 21, 2020
Dear Preston and family, I am so sorry for your loss. May Nicole's spirit live in through all of you. Con cariño, Sra. Dohrer
---
Posted on:
Friday, November 20, 2020
I was blessed to get to know Nicole last year as both a student and a member of our slam poetry family. I went through some of our assignments and found this image she created towards the end of the year, just before the pandemic. She is an exceptional artist, writer, thinker, and kind soul who I will miss dearly. My heart goes out to the family and her friends during this time.
---
Posted on:
Friday, November 20, 2020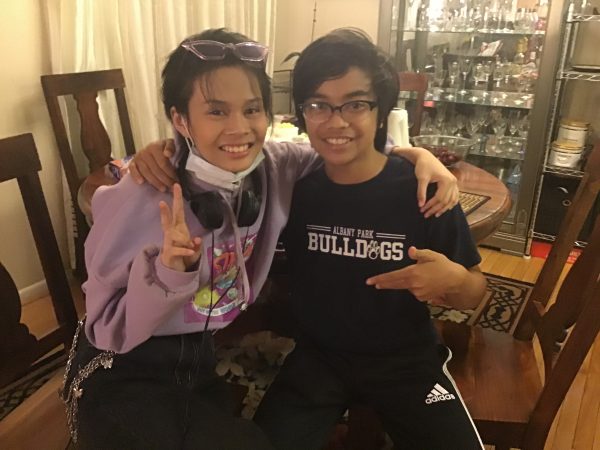 To my beautiful niece Nicole ❤️ We love you so much.will miss you...and will never stop loving you. Our days will never be the same. Your smile, your angelic face continue flash back. Rest in heaven my sweet niece. Tita Nanie
---
Posted by:
Edgilyn Corpuz
Posted on:
Wednesday, November 18, 2020
Nicole , We will be lighting a candle for you , gathered with your cousins from CORPUZ family , me ( edgilyn ) Edgiemark , Edgieloyd , Sofia. , Ricky, Mark and Vincent Jr. I don't even know where to start , when I have found out . Just always remember to look over us . Nothing will ever be the same anymore at this point . You will be truly missed. Yours truly, Edgilyn ( cousin )
---