Guestbook
Posted by:
Vince and Cheri Bueti
Posted on:
Monday, November 12, 2018
Our memories of Jill go back a lifetime, cherished memories of a Child of God that was lent to us for a time Our hearts are broken and we are praying that God will surround you with His Presence and give you peace and comfort as you go through this valley. You are not alone God is closer now than ever. We will surely miss that beautiful smile that lit up a room!
---
Posted by:
John and Barbara Piltaver
Posted on:
Monday, November 12, 2018
Our deepest sympathy on the loss of your beautiful daughter Jill. We can only imagine the hurt and sorrow you must be going through right now. Be comforted that Jill is in the loving arms of our Lord and a much better place. You are in our prayers and thoughts. God bless you all during this difficult time. "Then you must not grieve so sorely, For I love you dearly still; Try to look beyond earth's shadows, Pray to trust our Father's Will."
---
Posted on:
Saturday, November 10, 2018
Cyndi, Our heart breaks for you and your beautiful, loving family. So sorry for the loss of your sister Jill. Dawn and I will he praying this weekend for Peace and Grace for you, John and especially the young hearts of Vincent and Gianna. So sorry Cyndi. Much love, Greg, Dawn, Lindsay, Sam and Aaron Bell
---
Posted by:
Tarshinder Kaur
Posted on:
Friday, November 9, 2018
I am very sad to seeJill Epsteen leave us so suddenly, I fondly remember Jill being so pleasant and cooperative with m. I remember going with her DMV for renewal of her State ID card and Mc Donald. Once she went with me at beauty shop.. On all the outings she behaved in a very dignified and respectful manner. She would always address me in an affectionate manner as Tarshi. I miss her very dearly. May she rest in eternal peace, and pray that her loved ones bear her loss with God's Grace and strength,
---
Posted on:
Friday, November 9, 2018
My sincere condolences. I remember the first time I met Jill. We drove Cyndi home from skating and ended up staying for dinner. She was so sweet and lovable. She immediately took a liking to Carla. She kept on saying how cute she was. At some point I said we needed to go home so Carla could go to bed. Jill said to you that I was a responsible parent. Good memories! Love, Susan McKowen
---
Posted on:
Friday, November 9, 2018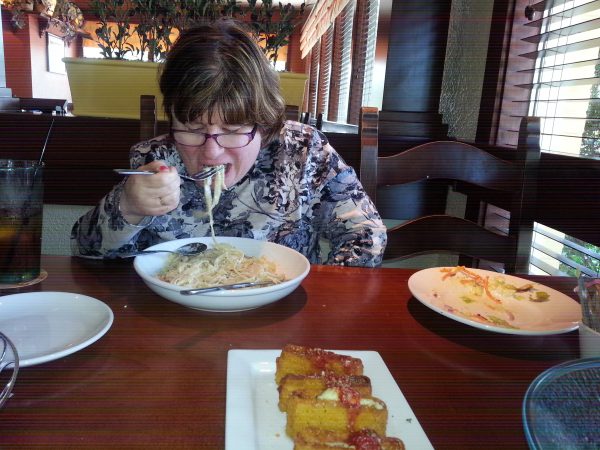 The above photo was taken at Olive Garden when we celebrated her birthday earlier this year.
---
Posted by:
Honorary Aunt Helen
Posted on:
Friday, November 9, 2018
I am heartbroken thinking about Jill and all the lives she touched in her beautiful and sweet way. She was so witty, so bright and so very funny. She will be missed by all.
---
Posted on:
Thursday, November 8, 2018
We at Riverside Foundation will miss Jill so much. I will personally miss her as we were always very close. Jill could always come to me to share any news, concerns or ask questions about her life, her needs and upcoming events. She also came for reassurance about her family visits and earning rewards. She was always generous with the other residents and always ready to smile and greet staff. She had a great sense of humor; she would ask a question, provide the answer, and then burst out laughing along with the staff. For the short time that she was here, she made a lasting impression on staff, peers and visitors. She will always be in our hearts.
---
Posted on:
Thursday, November 8, 2018
From Mommy Jill, My Angel and Darling Daughter. You have been my life and joy. I can't believe that you have left me. I will miss you phone calls, your love, sweetness, soft hands, tenderness, unconditional love, your concern for your family and friends, your loving ways, your personality and quick wit. My heart is broken! My life will never be the same! You will always be my special daughter. You are now with your sister Lori. I wish God would give you both back to me. I don't understand his plans. Jill my sweet baby, please pray for your Mommy to give me strength and peace to carry on for Cyndi, Gianna and Vincent. Love, Mommy
---
Posted on:
Thursday, November 8, 2018
Auntie Jill, I still can't believe your gone. I will forever cherish our time together and the memories that we have shared. I feel so blessed that you were and always will be such a big part of my life. Thank you for the lessons that you taught me over the years. I know that you are now at peace. Love you, Gianna
---
Posted on:
Thursday, November 8, 2018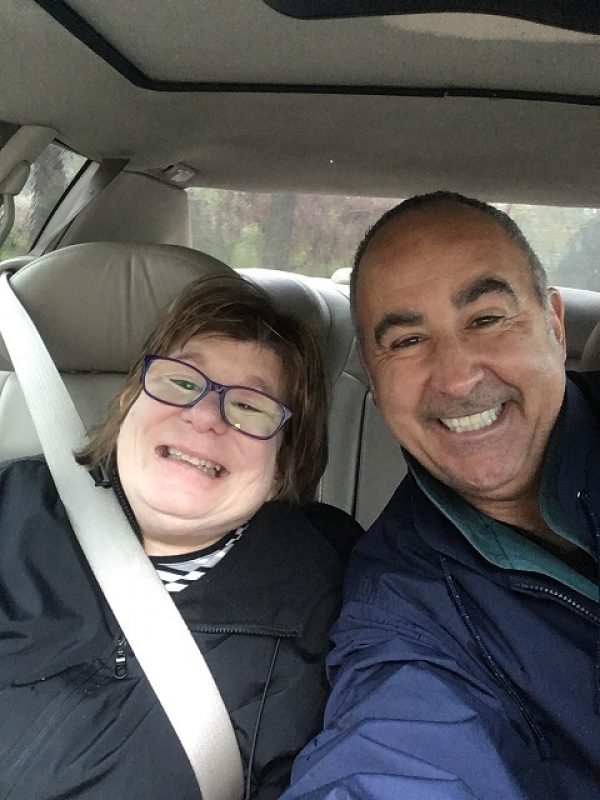 From- Daddy Jill, my sweet daughter. Your Daddy misses you so very much. You have been in my life for 43 years. Your love for me was more than anyone in the world. I will miss our Tuesdays together. I will miss your phone calls every morning, "Daddy, Daddy pick up, its your daughter Jill Epsteen Zalud". I will miss your hugs and kisses. I will miss holding your hand in the car. You were dealt a bad hand, but your Mommy and Daddy tried very hard to make your life better. I am sorry for the times I didn't pick up the phone, and I am sorry for the times I didn't order you surf and turf. I miss you so very much. You will always be in my mind and heart. Please pray for your Mommy, I am so worried about her. Love Your Daddy
---
Posted by:
Kimberly Fuscone
Posted on:
Wednesday, November 7, 2018
Jill and her favorite puppy Bella
---
Posted on:
Wednesday, November 7, 2018
Dear Jill, My heart is broken. I already miss you more than I can ever say. I can't believe that I will never hear "Sister, Sister" again. Thank you for making all of our lives richer because of your compassion, innocence and very loving ways. I know Lori has already greeted you with open arms and your best friend Bella is sitting on your lap right now giving you lots of puppy kisses, don't worry we won't tell mom 🙂 I love you with all of my heart and soul. Love, your Sister Cyndi
---